Under Pressure - dealing with the stress of fundraising for charity
By Mike James | 6th March 2019 | General, Advice
SportsInjuryFix.com director Mike James is no stranger to undertaking fitness challenges to raise money for charity. Here he has teamed up with SportsInjuryFix.com member and chair of the Sports Therapy Organisation, Andrew Spaak to discuss the pressures associated with this and how to manage them.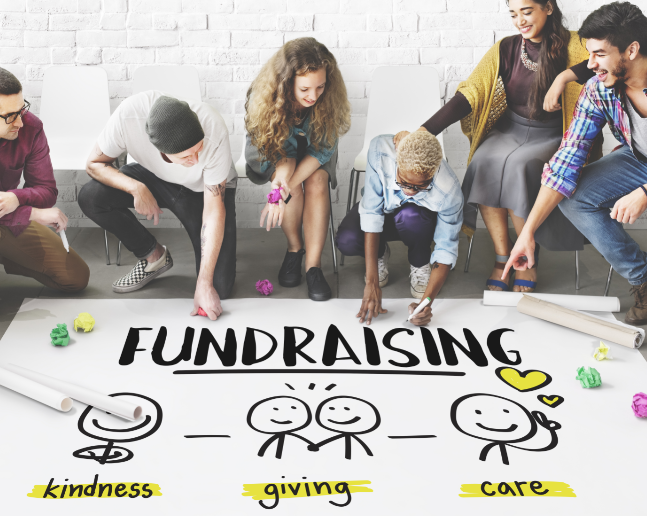 For as long as we have both been treating, people have been undertaking a multitude of fitness challenges to help fund raise for worthy causes and charities. Once the domain of the bizarre and spectacular (we can all recall the crazy costumes and wacky challenges shown on mainstream media), recent times have seen a real growth in the everyday athlete performing both seeminlgy routine and extreme challenges to help a charity, often one selected due to an emotional attachment, raise much needed funds to continue performing the astonishing work that so many of these charities inevitably do.
It is well recognised that training for any event brings a host of pressures and stressors. Committing to a training programme, the fear of being able to complete the event, balancing work, life, family and training together to name just a few. But adding the dimension of fundraising to this picture can very quickly lead to this pressure being significantly amplified.
For people wanting to undertake a charity fitness challenge, especially one of the more popular ones e.g. London Marathon, the added pressure of raising money and not disappointing those who have donated money to support you can become a real burden and worry, and can often lead to the event and challenge losing the pleasure of what should be an exciting and rewarding journey.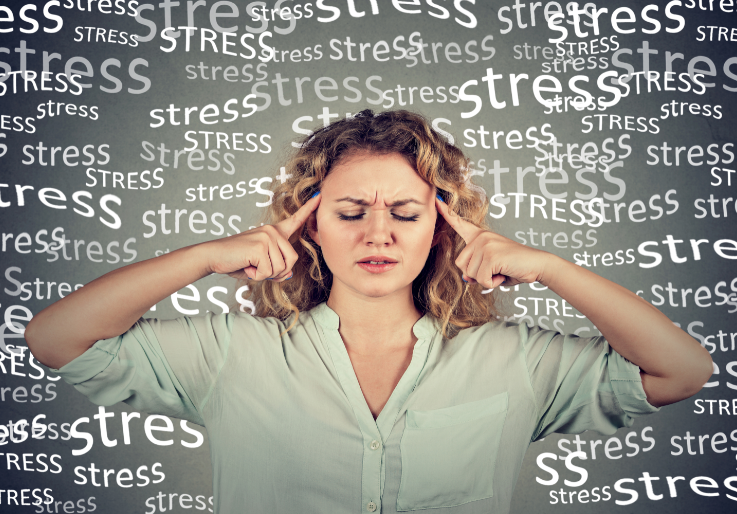 Over the years we have both met, treated, trained and worked with a number of people who were facing these pressures. Some people are able to deal with them well, others need help and guidance, and there have been times when we were met with tears, frustration, anger and self-doubt due to stress, injury and also the pressure they've put on themselves to perform the challenge.
We have seen people deviate from structured training plans, over train, add extra sessions or intensity to their training. These can manifest as niggles, aches and pains that can jeopardise the event. Other times, despite the absence of tissue injury or physical stress, stress and anxiety related to the training and fund raising can manifest itself as physical pain and discomfort. We have seen people whose physical symptoms have been caused by stress and anxiety and others who have struggled to recover from injury due to stress.
Of particular note, recent years have seen a growth in people going longer and harder, undertaking multiple events over many months or condensed over a short period, and more people are now donating funds prior to the event, not upon completion. We thought we would ask some people who are doing amazing things for fantastic charities for their thoughts on the pressures of fundraising.
Karl Williams from South Wales shared his touching and truly remarkable personal story with us. "My dad passed away suddenly in April 2017 from the effects of undetected heart disease. Wanting to turn my grief into something positive, I decided to set up #ultras4Dad challenge – 7 ultra- marathons between Jan 2018 and Jun 2019 – 7 races between 33 and 100 miles. The married dad of two has embarked on this massive 18-month challenge whilst raising money and awareness for theBritish Heart Foundation and as a tribute to the memory of his much-loved dad.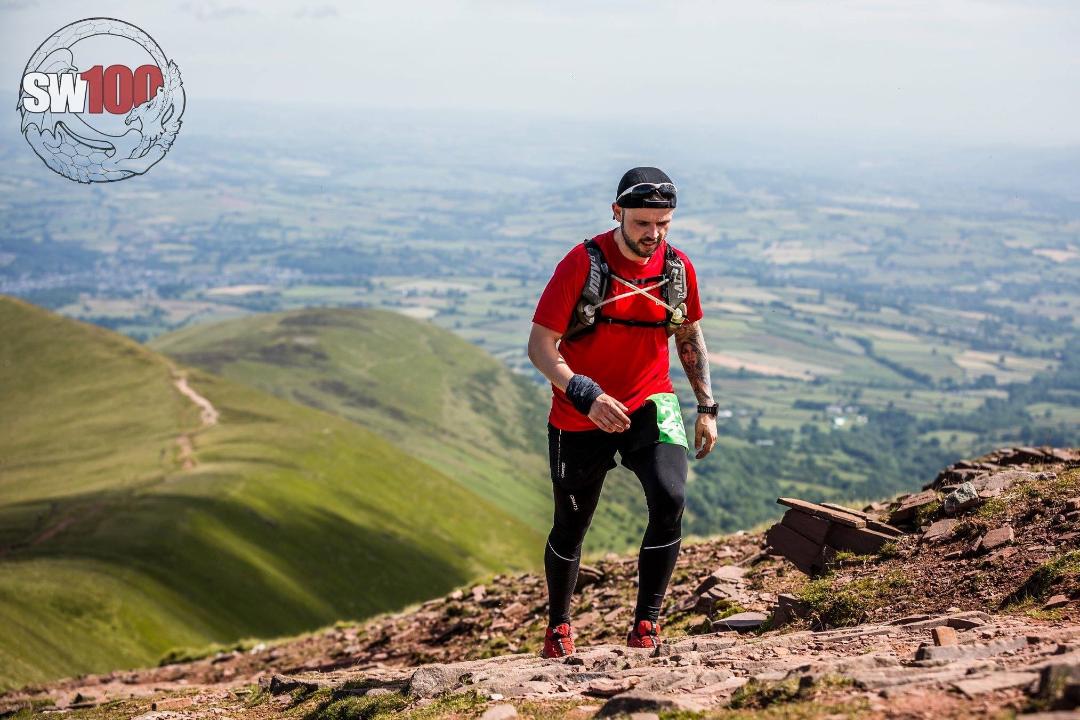 Karl states "the pressure placed on himself through fear of failure, expectation, and the worry of letting people down, particularly those who have sponsored you" have been enormous, changing the perception of the challenge and have a major impact on training and recovery. He is constantly aware of the mistakes this pressure could cause such as ignoring injury and not giving training and recovery the respect they deserve.
But Karl is keen to point out that this pressure isn't necessarily a bad thing. Channelling it into a positive to help focus motivation, concentration and enjoyment can be a massive help. Karl says, "once I understood that the pressure was something I was creating, I understood that the pressure is something I can control".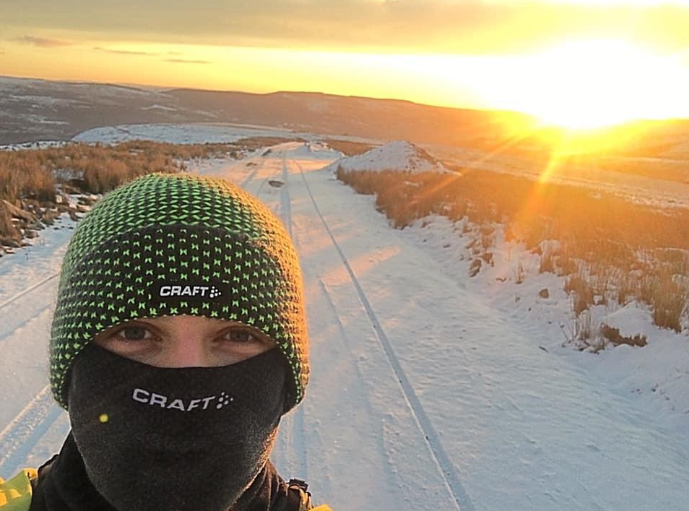 Karl selflessly commits to dark runs through the winter mornings at silly o'clock and runs as a commute to work (more than 20 miles!) in order to fulfil his goal whilst balancing his role as a remarkably dedicated dad and husband.
At the time of writing this blog, Karl is well into his 18-month challenge and has completed 5 out of his 7 challenges. He also reports the mental benefits this experience has provided have been invaluable in helping him deal with the grief of losing his dad. The whole team at SportsInjuryFix are fully behind Karl and our director Mike James (The Endurance Physio) is planning on supporting Karl during his 100-mile, final challenge. To find out more about Karl and his fantastic challenge, or to donate to his cause please visit Karl'sJustGiving page and follow him via twitter @ktw09_williams.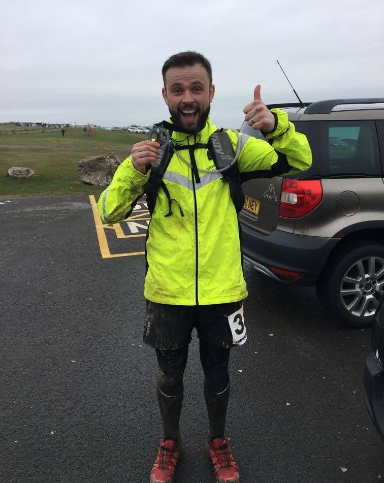 Bristol based Lauryn Ava Bentham is an ultra-marathon runner who has been relentlessly completing ultra-endurance events since April 2017, whilst also battling cancer herself to raise £10,000 for Macmillan Cancer Support. Lauryn states that "charity fundraising can be an incredibly fulfilling and rewarding experience." Her journey has been full of highs and lows though. Her fundraising journey (literally and figuratively) has made her realise that everyone has a story to tell and whatever the motivation to fundraise it can be an incredibly powerful thing that can help you through the pain and suffering whether physically, emotionally or psychologically.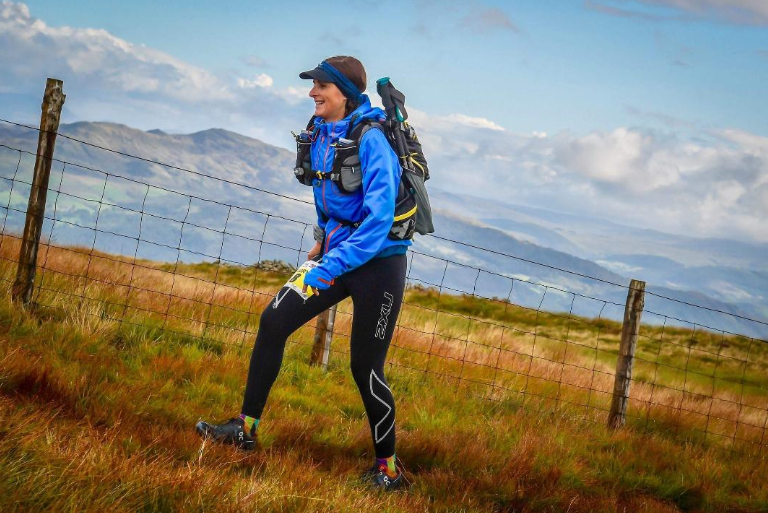 She feels the dawn of the Social Media age has helped considerably and is an absolute must to help raise funds. As she states, "gone are the days of collecting names on a sheet of paper at work". But Lauryn warns, "be patient, building a profile takes time, way more time than you may have allocated, as does staying on top of it". She constantly strives to find the balance of posting regularly enough to stay in people's attention but remaining on the right side of the fine line between achieving this without becoming annoying. She enjoys the positive side of doing Social Media the right way - remaining motivated, knowing people are following you to keep you working hard and the interesting notion of having "no get out clause" – there is no hiding place on social media!
But she is keen to remind us, just like Newtons third law of motion states "for every action there is an equal and opposite reaction." Social Media has a negative side – you are open to criticism, abuse and even threatening behaviour from those who wish to, and this can make the journey very miserable should you allow it to. The so-called keyboard warriors without constructive help or feedback are now a real and present factor that must be considered.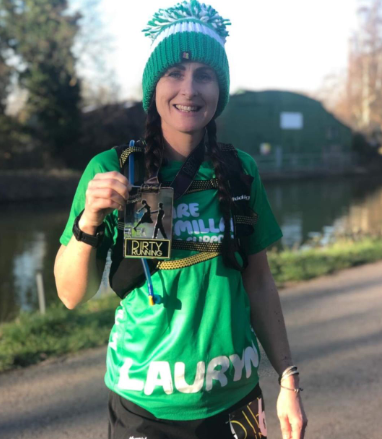 Lauryn has placed extra pressure on herself by self-funding every aspect of her challenge. Every penny raised is going to the charity. Of 92 events completed to date, she has self-funded travel, race entry and accommodation of nearly 80 races herself, using up all her annual leave and working time in lieu to do so. As always, the real warmth of a story like this, is the generosity of those race directors and fellow runners who have helped make the others possible.
Lauryn feels that whatever the challenge, try to make it creative – something different from the crowd. Try to find a unique selling point that helps. But most of all, try to enjoy the process, you are doing a good thing ultimately, and if done for the right reasons will inevitably yield the right results. Use the positive support but be weary of the negatives that lie in wait. Lauryn also states that there has been an unexpected benefit of the journey – she has acquired genuine, life long friends along the way. To find out more about Lauryn and her fantastic challenge, or to donate to her charity, please visit hervirginmoneygiving and go fund mepages.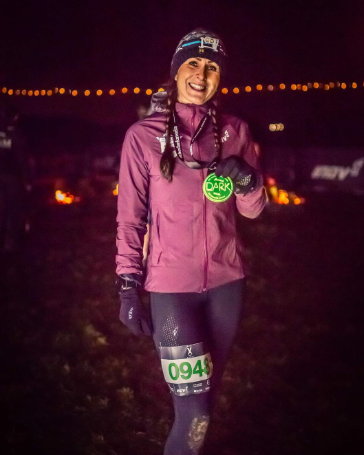 Andrew spoke to Sue Bennett, a popular and well-known marathon runner based near Newbury in Berkshire who has raised significant amounts of money for ms-uk. She is also heavily involved inRun Together in West Berkshire by Coaching Running Fitness. Sue suggested the following points which echo many of Karl and Lauryn's tips. We have expanded on them.
Raising Money
If you are struggling to raise money – Don't panic. It is quite common for charities to provide a period of time AFTER the event for you to collect / raise the money. Many people will feel committed to donate once you have completed the event. It is common for this period to be as long as 6-8 weeks.
Understand and appreciate the scale of the challenge
Don't underestimate the effort and commitment required to train AND raise the money.
It can be quite daunting trying to raise funds. Sometimes the targets can be a significant amount of money to raise with some charity runners at the London Marathon for example, expected to raise £2,000 or more. Ask around and see if anybody can help you out with matched funding through their firm for example. Many people get sponsored through crown funding, and options and ideas to raise money have progressed from the old-fashioned method of predominantly asking friends and family. There are a host of novel and inventive ways to raise funds today.
Be Inventive
If you're planning an event – why not do something different. Be original – you're more likely to gather momentum and support if your challenge is original and not something that's been done before.
Find a charity that inspires you
Many people may simply use charity sponsorship as a way of securing a place and avoiding the lottery of an entry ballot. This isn't necessarily a negative thing to do, the charity benefits and you get to perform the challenge. However, should times get hard or difficult during the preparation, then the intrinsic motivation to continue may not be as strong as if you are competing for a charity that inspires you to help them due to an emotional or ethical attachment to their cause. Choosing a charity that you are passionate about and maybe have a personal reason to raise for that charity is a sure-fire way to help stay motivated and committed to both the training and the fundraising.
Its still a physical challenge at the end of the day!
Whatever the event and regardless of your physical ability, the challenge remains predominantly physical. Raising funds should not supersede the need or requirement to train appropriately. Your training is arguably more important than raising the money in order to complete the challenge. Commit to an appropriate training plan over an appropriate period of time, and if you unfortunately pick up niggles and aches along the way, ensure you get them checked and managed by an appropriate professional.
Be firm but flexible
Life does sometimes get in the way. Training plans are there to guide but if you are unable to follow it to the letter then don't panic. Remember that you are an individual and plans are general. Adapt the plan for you. Most people will successfully achieve their aim by completing 80% of a training programme. Don't chase missed sessions or add them onto the next session, it is a recipe for disaster. Move on to the next session and make sure that goes as planned.
It's your challenge and nobody else's!
Train for what you want to do and feel you can do, and not what others expect or pressure you to do. If it is your first time at a particular race or distance, then don't worry about the time (Unless that is a target you've set yourself). Simply enjoy the journey and crossing that finish line.
Remember to have fun and enjoy!
Raising money for charity is a noble and worthy quest. However, most of us are not professional athletes. Make sure you enjoy the event and the experience. Try to take in the views, sounds and people associated with the event. When you reflect on the journey and possibly think of embarking on another fundraising challenge, these are the things you will gain energy and inspiration from.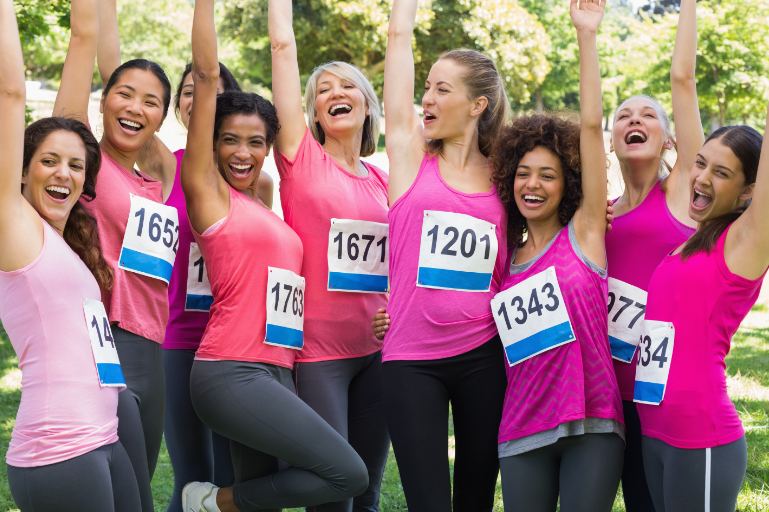 We hope that you have found this blog useful. Anyone reading this who is or is thinking of undertaking a fitness challenge for charity is a true inspiration and we commend you all. For more information on Andrew please visitwww.westberkshireinjuryclinic.co.uk. and also visitwww.sportstherapyorganisation.org.uk.
Should you wish to gain advice or treatment from a therapist near you who specialises in your sport and / or injury then please visit sportsinjuryfix.com. Our experts are there to get you fixed not frustrated and ensure you get to that start line in the best possible condition to achieve your goals. Check out our otherblogs which can help you stay injury free whilst preparing for your event.
More articles